"For a day in Your courts is better than a thousand. I would rather be a doorkeeper in the house of my God than dwell in the tents of wickedness" (Psalm 84: 10) . . . . "One thing I have desired of the Lord, that will I seek: That I may dwell in the house of the Lord all the days of my life, to behold the beauty of the Lord, and to inquire in His temple" (Psalm 27: 4) . . . . "… Eye has not seen, nor ear heard, nor have entered into the heart of man the things which God has prepared for those who love Him" (1 Corinthians 2: 9)
Eulogy to a Deceased Mother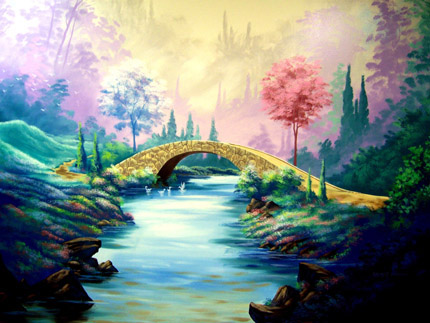 I do not know where to begin.  My mother's memory has a sweet fragrance that one can never forget.
She spent a lifetime of hard work that knew no rest.  She sacrificed the best years of her life for her family. I remember she was the first one in the house to wake up early in the morning, and the last to go to bed at night tired from a day of hard work.  She cared for her family, and never thought of herself. She always met her new day with a smile on her face thanking the good Lord for his gift.
The most precious gift she gave me is the gift of Christ.  She took me to Him when I was a little boy.  I will never forget that great favor for her.
As she advanced in age, she suffered from declining memory for the last eleven years of her life.  However, the last five years of her life were the hardest, where she became fully dependent, and suffered from bouts of hyperactivity, insomnia and frequent infections.  It is horrifying indeed when the human brain deteriorates before the body.  How often she tried to express herself in these trying years but could not because she forgot the words.  The apostle Paul declared in Rom. 8: 17b that "if indeed we suffer with Him (Christ), that we may also be glorified together."  The suffering of the cross comes before the glory of resurrection.
I cannot begin to talk about the multitudes of virtues that adorned her—virtues that shine in heaven, but may go unnoticed and unappreciated on earth.  One particular virtue stands out: the virtue of complete self-denial.  A virtue I have tried to learn from her over the years.  She always gave of herself unreservedly to serve others, not expecting anything in return.  She never asked anything for herself.  This quality manifested one aspect of the beautiful image of Christ, our Lord.  Christ left his eternal heavenly glories to take a humble human body made of the clay of the earth motivated by his love to God the Father, and to fallen humanity.  In the words of the apostle Paul in Philippians 2: 7: "but made Himself of no reputation, taking the form of a bondservant, and coming in the likeness of men."  He never sought anything earthly for himself.  Even when they wanted to make him a king he refused showing complete self-denial and self-sacrifice (John 6: 15).
The test of suffering and pain is the ultimate test of faith.  All of us must pass that test, as Christ has taught us saying: "whoever does not bear his cross and come after Me cannot be My disciple" (Luke 14: 27).  The place of suffering is a very lonely place.   The student does not get help while taking his test.  In this severe trial that lasted over five years, I remembered the agony and loneliness that Abraham felt as he was offering his son Isaac, the son of the promise, a sacrifice as the Lord had commanded him.  I remembered the torment that Joseph felt for 13 years of slavery and prison for no wrong he had done in a foreign land away from his family and friends.  I remembered the torturous loneliness that Jesus felt on the cross as he cried out: "…My God, My God, why have you forsaken me?" (Matthew 27: 46).
I agonized over the question of the suffering of the righteous that baffled gifted theologians for centuries ever since the time of Job more than four thousand years ago.  Lord, why is the prolonged suffering?  Why is the slow hard dying after a hard life of toil?  Why put an important part of my life on hold for years?  I do not fully understand the suffering of the righteous.  No one does.  Perhaps, the good Lord will answer these questions fully when I meet with him in eternity.  The immediate answer of faith is "Trust the Lord."  "Though He slay me, yet will I trust Him" (Job 13: 15a; Psalm 37: 3, 5; 40: 3; 62: 8; Isaiah 26: 4; etc.).
In the midst of this prolonged suffering, I always remembered these three essential concepts that kept me close to Christ our Lord: Trust his infinite unconditional love that took him to the cross of pain and shame for my sake; Trust his infinite wisdom; And trust his infinite power.  "We know that all things work together for good to those who love God, to those who are the called according to His purpose" (Romans 8: 28).
When Satan tries to take advantage of our situation of suffering and whispers in our ears saying: "Jesus does not love you.  If he loves you he would not allow this suffering for you."  The answer of faith is: "May the Lord rebuke you Satan.  We trust our heavenly Father no matter what, as a child trusts his earthly father in all situations.  We will walk with Christ even to the cross if necessary."
After long difficult years of suspense, neither healing nor heaven, the good Lord bestowed his mercy by welcoming our mother in heaven.  Her almost 91-year journey on earth has ended.  Her eternal journey has begun in the glories of the heavenly kingdom of Christ, our Lord.  The Lord God ordained death after the fall of Adam and Eve.  It was an act of exceeding mercy form our loving God, not an act of judgment and vengeance.  He did not want humanity to suffer for eternity the ravages, pains, and aches of a decaying sick broken old body made of clay.  Physical death limits and ends physical pain and suffering. 
I visualize Christ, our Lord, waiting at the pearly gates of the kingdom of heaven with open arms to hug our mother saying: welcome home my child, "well done good and faithful servant; you were faithful over a few things, I will make you ruler over many things.  Enter into the joy of your Lord" (Mt. 25: 21).
I wish to express my thanks and gratitude to all who stood by our side and supported us in our difficult years.  A friend in need is a friend indeed.  I wish to thank in particular the local priest who visited her at home countless times to administer Holy Communion to her.
I will miss you mother.  But two things console me.  I know you are in the heavenly kingdom, a place far better than earth—a place where the eternal uncreated glory of the divine shines.  It is the place the apostle Paul longed to go to as he said in Philippians 1: 23: "…having desire to depart and be with Christ, which is far better."  It is the place the psalmist longed to saying: "How lovely is your tabernacle, O LORD of hosts!  My soul longs, yes, even faints for the courts of the LORD…" (Psalm 84: 1-2a).  My second consolation is that I hope to meet you there when my day to depart earth comes.
Mother, I know you will always remember us before the Lord in his eternal realm.
I thank you for all you have done for me in a life time.  Thank you for your love.  Thank you for your care.  Thank you for your sacrifices and toil.
May the good Lord bless us with your fragrant memory and prayers of love all our days?
So long mother.  We part now to meet again.  I will see you later in the heavenly places.
You can support St. Mark Evangelistic Association every time you make an online purchase from over 1,000 merchants—at no cost to you! A percentage of your purchase price is donated back to St. Mark Evangelistic Association.  What could be easier?
Get Started Here.

---